For a long time everybody wondered how a new language can be learned in a simplest and fastest way. There has been many studies and research projects on the subject, but really no one has found a successful way.
Since that time…

Some archaeologist, who until this day has retained his anonymity, many years ago discovered something that would change learning new languages forever. During one of his trips to Egypt, in the middle of the Sahara desert, he began excavations to uncover the remains of one of the Pharaohs, and in the meantime he discovered something completely different. The cave, to which he was able to dig to, he had found a device scheme that was sure left by aliens, because its complexity was much higher than anything he have ever seen.
The idea was, that all memorization is based on the forgetting curve - so the more days that pass, the higher chance, that he will forget the word. It was written, that if you repeat the word, when there is still big chance (like 90%) you remember it - next time, you remember it for longer time. It was so simple - that you just have to repeat the new word until today, and then after 3,7,20,60,180 days etc. With this method you use your time in most effective way - memorizing as many words as you can in very short time! This complicated scheme left by aliens was automatically showing you the words in the properly calculated time.
In secret, he compiled a group of top scientists from around the world, who for decades deciphered these patterns, and then built a device that was described. It turned out that it was unbelievably advanced in design and extremely effective and simple to use, language learning machine. In addition, the schemes provided information on how the prospective students should be prepared to use the machine.
The researchers speculated that this machine was used to ensure, that visitors from alien planets could easily learn our language, but it might also been very well used for the human race to learn languages. They also wanted to make it beautiful and fun - so added many games, motivational achievements and secret add-ons that would make the learning extremely enjoyable and interesting.
With such a work of art and knowledge, the mysterious archaeologist opened his own language school, which quickly became the best and most recognized school around the world. He named it, in honor of the shovel, that he used to dig through the cave (which by the way he had bought at the market in Thailand) - LingLing.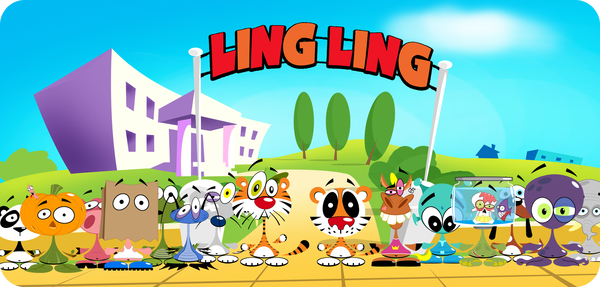 In the school named LingLing are now studying all the characters of the app. The method there is based on modern and unique methods of learning, not found anywhere else, because instead of the usual exams, each student is using a mysterious machine to evaluate and multiply his progress. As each of them wants to achieve the highest score, they are learning in their spare time, regardless of the surroundings, what can cause a huge number of very interesting situations.


Learn to speak English/Spanish/Thai fluently in just 10 months! The revolutionary method, which will change the world as you know it!

Over 1 billion people all over the world are studying English/Spanish/Thai languages right now. Only 30% percent of them can speak this language... Do you want to be in this 70% that is only wasting their time – studying and still not knowing it? How much time of your life did you waste already for non-effective methods of learning?

★★★★★ "That`s a revolution in the world of fun & education!"

★★★★★ "I am addicted to it – this is a really crazy, yet awesome way of learning English/Spanish/Thai!"

The revolution in the world of studying English/Spanish/Thai is now coming! The most effective method of learning in the world!


************** Important **************
With unique LingLing algorithm YOU MEMORIZE 750 WORDS EACH MONTH
************************************
By buying new packets 1% of revenue goes for charity - for children.


After 10 months you can speak English/Spanish/Thai fluently while having extreme fun with the characters of LingLing – 15 totally crazy students of LingLing school who will go with you through your life`s biggest adventure!

State-of-the-art system of memorizing mixed with fun – helps you make an amazing progress every day!

GAME & FUN
✔ Learn English/Spanish/Thai by playing an exciting and beautiful game in HD
✔ Create your avatar from over a billion of combinations and go with him through this amazing adventure
✔ Discover all the secret Achievements and hidden bonuses

LEARNING
✔ 20 times faster learning than traditional methods - 750 new words each month
✔ Database of 21.000+ Words in 3 difficulty levels, and still growing (1500 for free)
✔ Already translated into 18 languages (English, Spanish, Japanese, Korean, German, French, Tagalog, Hindu, Chinese, Ukrainian, Thai, Polish, Italian, Indonesian, Turkish, Portuguese, Russian, Arabic)

SOCIAL
✔ Compete with other people – Challenge your friends
✔ Share your progress – show people how fast you are becoming better each day!

Download now! Start your biggest adventure right now for free!